June 2021

Josefin Gäfvert tilldelas Konstfacks stora stipendium från "Rektor Åke Stavenows m fl rektorers stipendiestiftelse" för projektet "Utfläkt på ditt golv"
https://www.konstfack.se/sv/Aktuellt/Nyheter-och-pressmeddelanden/2021/Stipendieregn-over-Konstfacksstudenter/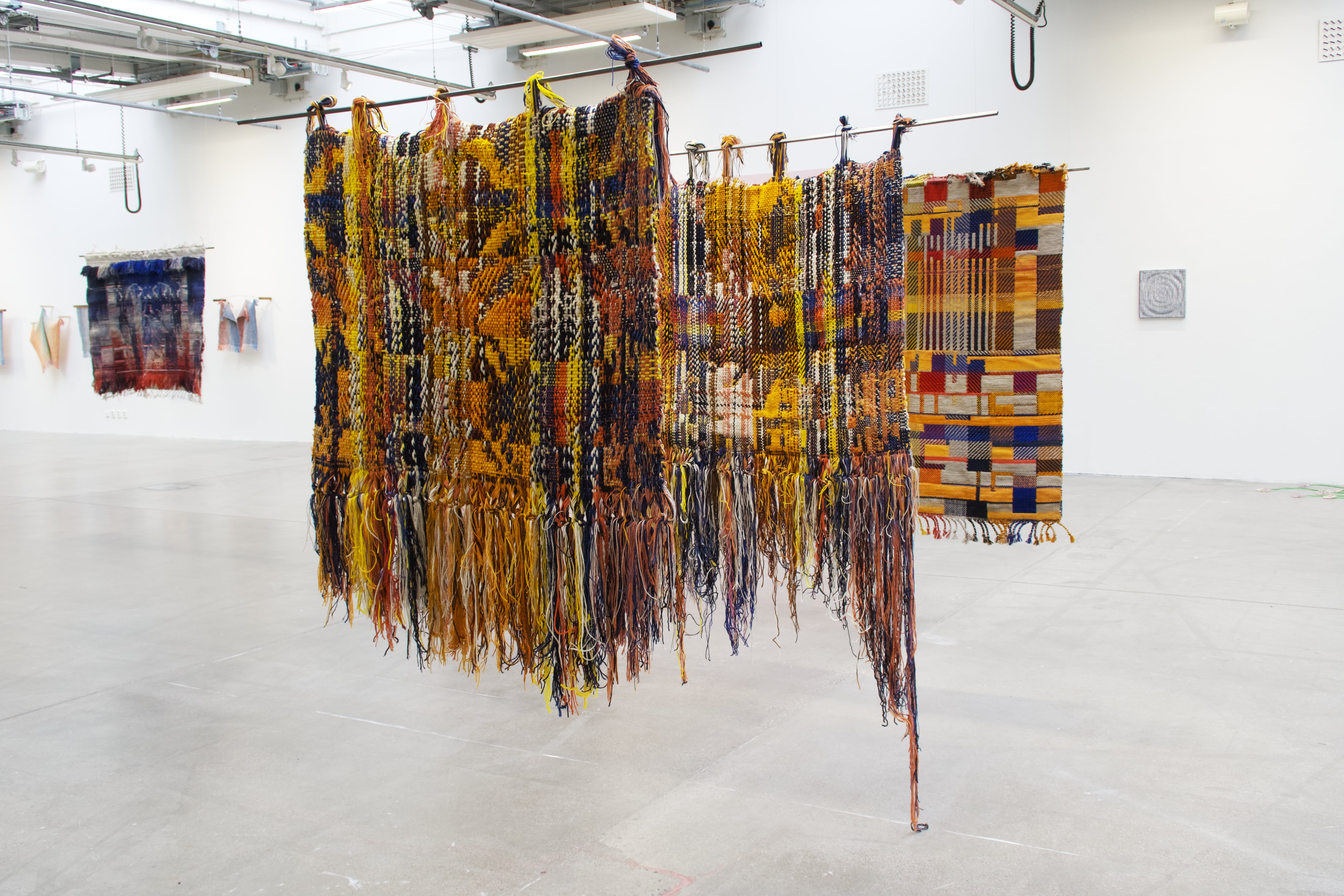 Motivering från Proffessor Bella Rune:

Josefin Gäfvert skapar rebelliska bildvävar med mönster och färger som tar tag i våra kroppar och skapar lekfulla kopplingar till både måleritraditioner och funktionella textilier. I sitt arbete kämpar hon med väven och vävarens roll i dagens samhälle och säger själv att hennes vävar registrerar hennes pågående kamp med, och kärlek till, varpen.
Josefins bildvävar i Vårutställningen är vävda i en och samma varp i en damastvävstol och vi kan följa hennes intensiva vävdialog genom vävarna, där sällsynta repeterade mönster endast är en respit från ifrågasättandet. Hennes konstnärliga strävan är Mattan, en form av ärlighetens Heliga Gral, och det är dit hennes vävar aspirerar. Vävarna når aldrig fram till hennes Matt-ideal, men från sitt vertikala läge på väggen talar de om Mattan, om folkloreoch önskan om att skapa något äkta med stark mänsklig närvaro.
Josefin är en av de mest avancerade textila studenter Konstfack haft under mina år som professor, både tekniskt, konstnärligt och som röst för nya generationer vävare. Hon utmanar hela tiden sig själv och de traditioner hon tar sig an och samtidigt lyckas hon, mitt i denna konstnärliga kamp, även generös dela med sig av sin resa till oss.
"Abstract

In this paper I have investigated the role of the weaver, from my own perspective as a weaver. I have discussed weaving in relation to function and painting, and how the weaving process and the collaboration with the loom have a great impact on what I create. I have found it difficult to believe in the future as a weaver, and with this project I wanted to find a meaning with weaving that I can lean on.

All five weaves are woven on the same warp, I call it a warp family. Every weave is a try and a failure to weave a rug. Instead they have all turned into different characters, portraying my ongoing struggle with, and love for, the warp.

I've come to the conclusion that for me the rug is a symbol for honesty in making, and that it's function is to remind us about values that often are neglected. The visible process, the human presence, is then more important than aspects like functionality or perfection."




May 2021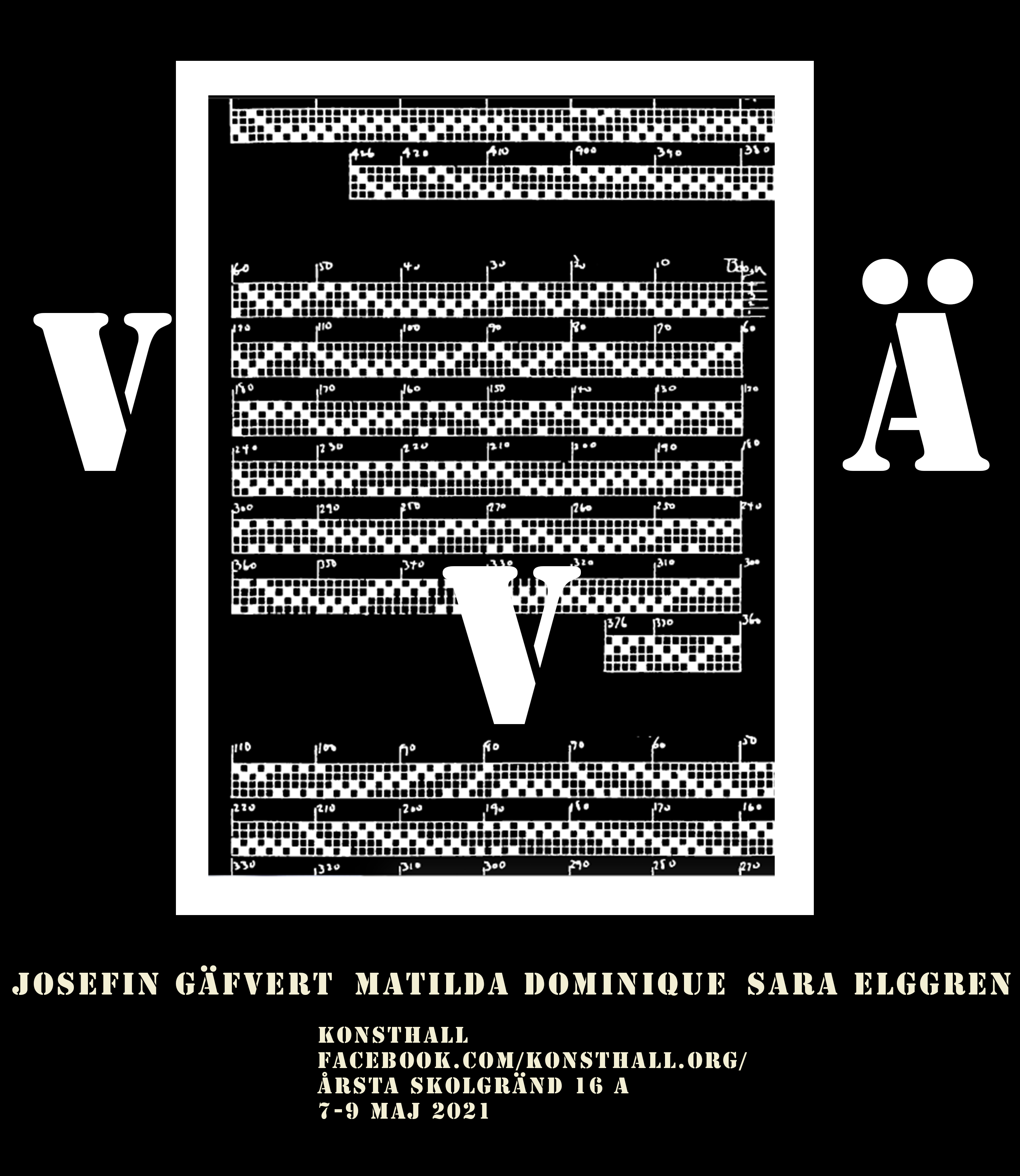 Väv 7/5— 9/5, 2021
Josefin Gäfvert Matilda Dominique Sara Elggren
Vi pratar om att berätta, att väven är ett språk. Är vi så dåliga på att prata med ord att vi fick ta till det hemligaste av alla tecken? (Var vi rädda för vad vi skulle kunna säga rakt ut med våra munnar? Eller tröttnade vi så fort orden lämnade våra läppar?) Efter de långa förberedelserna är det bara värt att väva det som är viktigast att få ur sig. Kanske trodde vi just då att vi kunde stå för det ända in i evigheten? Det skiljde sig i alla fall från andra flöden. Jag minns att jag för många år sedan tänkte att det var genom väven som jag skulle våga vara som ärligast, då ingen förväntar sig att den ska ha något innehåll. Med väven som täckmantel kunde vi väva - näsdukar, stela och formbara genom stärkande koppartrådar, inte av snor - vad en annan skulle kunna tro var handdukar i våffelväv, men visade sig vara bärande konstruktioner på gränsen till sönderfall. Mattor som var alldeles för innehållsrika och ömtåliga för att någon nånsin skulle lägga dem på golvet. Liksom de gamla lyxiga gobelängerna rullar vi ut och ihop våra vävar, flyttar dem från plats till plats.
Josefin Gäfvert, Matilda Dominique and Sara Elggren are contemporary weavers based in Stockholm, working in the borderland of fine art and craft. Their collaboration is about opening up new doors to their artistic practices as much as challenging discussions about the woven object of today. Coming together, finding and making use of different platforms, expanding scenes for weave as artistic language. In dialogue with the history of weaving as it has been transmitted to us, the heritage of tradition, of Anni Albers, but also in response to the current movement of woven diversity. Where the practical is made unpractical; where different voices are mixed up, where the woven material is as much a fairytale as reality, magic and science.
saraelggren.org/
matildadominique.com/
josefingafvert.com/

Event: https://www.facebook.com/konsthall.org
Fre 7 maj
17–20
Lör 8 maj
13—16
Sön 9 maj
13—16
Årsta Skolgränd 16a
117 43 Stockholm
March 2021

Konstfacks vårutställning, Konstfack Spring Exhibition

Master's and Teacher Education: 22–28 May
Opening hours at Konstfack:
Mon-Fri 11:30 a.m. – 7 p.m.,
Sat-Sun 11:30 a.m. – 7 p.m.

Read about me and 9 other "girls on fire" in the new issue of Styleby magazine.
February 2021

"Lamb Gift" at CRUM Heaven

Nicola Godman – Josefin Gäfvert

5–21 FebruaryVernissage: Friday 5 February, 16–20
Address: CRUM Heaven, Högbergsgatan 38, 118 26 Stockholm (T-bana Slussen)Opening hours:
The exhibition is open on weekends and by appointment.
6–7 February, 13–16
13–14 February, 13–16
20–21 February, 13–16
There is also a satellite part of the exhibition in our Exhibition Case at Grindsgatan 27 (in collaboration with Crash Boom Bang) with opening hours on weekdays 10–17 or by appointment.
To book a time for an individual visit please contact us at flat.octopus@gmail.com or +46 (0) 728 49 29 89 (Alice)
December 2020
DESIGN S- WINNER
TEXTIL


Studio Supersju x Carl Malmsten
Ett storslaget samarbete av en grupp individualister som tolkar en av våra stora möbeldesigners. Resultatet: ett högklassigt textilt hantverk som utifrån uråldriga hantverkstraditioner skapar ett modernt uttryck och en design som bidrar till ett mer hållbart förhållningssätt till tingen i sig.
A magnificent collaboration by a group of individualists who interpret one of our great furniture designers. The result: a high-class textile work based on ancient crafting traditions, creating a modern expression and a design that makes our relationship to objects more sustainable.
Link to intercview:
https://vimeo.com/485227411
Link to Design S:
https://design-s.se/vinnare-2020/

---
Fiberspace: Art, Craft + Design
2015-2020
Fiberspace turned 5! To celebrate we have published a brand new book that will, aside from highlighting some the wonderful artists, artisans and designers that have exhibited in the gallery and their artistic oeuvres, also include brand new essays by leading figures within the textile field: Jessica Hemmings, Textile Writer & Professor of Craft and Vice-Prefect of Research HDK, Bella Rune, Artist & Professor of Fine Art, Textiles, Konstfack, Åsa Pärson, Master Weaver and Delia Dumitrescu, Professor & Manager of the Smart Textiles Design Lab, Borås Textilhögskolan.